Monday, November 30, 2009
Posted by

blah
at 2:19 AM
No comments:

lil wayne is finally making a movie. well sort of. it's a documentary. the movie will not be out in theaters, but it will be out on dvd around christmas time. it will be a good christmas present to all the hip hip heads or lil wayne fanatics. this movie delivers hard.
here's a trailer:
click
here
for the full movie. press play and enjoy.
Posted by

blah
at 2:05 AM
No comments:

Posted by

blah
at 1:41 AM
No comments:

Sunday, November 29, 2009
aRPeezee:
- Converse SKATEBOARDING SHOES sz 8 (silver or black. available at transport)
- NBA 2k10 OR Marvel Ultimate Alliance 2 for xbox360 (used or new)
- Gift Card at Best Buy or Target.
- Breakfast with Olivia Munn and Morgan Webb, Lunch with Amber Heard, and Dinner & movie with Megan Fox

for potluck..providing the venue and plates and utensils

Pierre:
- Quick charge kit for Xbox 360
- Vans Chucka Lows (black or burgundy. sz 9)
- Over Dyed Stripe Fleece Hoody from American Apparel (sz medium. color "potted soil")

for potluck..chips and dips and lumpia shanghai.

Carlo:
- tri blend shirts (M)
-Standing bike pump with guage
-"knog" headlight and rear lights
-watch (any brand)
-Nursing Med Book 2010
-nba 2k10 for ps3 (used is fine)

Marlon:
-Walmart shoeS (1 slip-on and 1 black w/ straps).
-boxes and boxes of 5-Gum (rain or cobalt)
-Apple Magic Mouse (i will lovee you if you get this) :]

potluck..zankou chicken (spell check) and 6 boxes of pizza pie (requesting toppings)

Andro:
-blue mickey mouse coffee mug with this on picture of mickey on it (can be found @ the disneyland shop) >>> http://imagehost.vendio.com/bin/imageserver.x/00000000/gyantzpod/g1.jpg
-white or black hightop pro-keds sz 9.5 (surprise me! found @ undefeated) >>> http://www.myairshoes.com/f/other-brands/768-pro-keds-fall-2009-shotmaker-white-blue-black.html
-white, black, or red wesc headphones
-the perfect pull-up (or any pullup bar you can install on a doorway)

Irene:
- Dark red zip up hoodie from American Apparel XS
- Gift card to sephora
- Barnes and noble gift card

Jonel:
1. anything you can imagine...i aint picky..
2. whatever you wanna give me
3. seriously anything will be nice
p.s.
nothing stupid because im going to have to bring this present back in the plane thanks peoples.

MAtt the SHAT:
-gift cards to target or buffalo wild wings
-zig zag shoes.......zig zag shoes can be found at silverlake military surplus store sz 8 yee preferably the navy ones or burgundy hollaatchaonepinoyyyy

James
-laker tickets
-hair clippers
-sweater or hoodie xxxl
-cologne

for potluck...fried chiken or beef broccoli or orange chicken from ok chinese

EJ:
-Autographed picture of Dolphi or Oleksiy Pecherov
-Gift Card : Target,Urban Outfitters,Best Buy
-DVD's : any new movie will do, I definitely wont have it
-Laker Jersey : Kobe Home Sz Med
-Black Basketball shorts
-Nike Socks
Anything will do, it doesnt have to be on the list.Im good with a cuddle.

potluck: honey baked ham with mashed potatoes and corn.

Erwin:
1)target
2)best buy
3)h&m
4)urban outfitters
5)any great blu ray movie

Eric:
-UP
-bottle of crown royal
-american apparel clothings (m shirt 29 pant)
-a cool scarf!

potluck: CHAMPAGNE BITCHES!

Mel
1. Visa/MC/Amex Giftcard
2. Nike Pacquiao shirt L
3. Nike Flip Flops..nice comfortable ones
4. The Office season 1-3

Gerilyn
1. giftcard F21 or Victoria Secret
2. zip up hoodie purple or grey sz smal
3. leggings (not black) sz small

potluck: lasagna with garlic bread and red and white wine....

Sally:
-Flats from steve madden called tuxxedo, size 5.5, color kookie
-Diorskin Nude Natural Glow Hydrating Makeup SPF 10, color: Honey Beige 040
-if all fails Sephora giftcard :P
-booties from steve madden called carlinn in black size 5.5

potluck: chow mein

Kris Garcia"
1. nba 2k10 for ps3
2. modern warfare 2 for ps3
3. any harry potters on blu-ray
4. medical clipboard with nursing cheatsheet
5. NCLEX review book
6. bowling ball
7. dvd on how to do poker chip tricks

christine (garcia):
1. 2010 planner/calendar (only paperchase brand)
2. pajama pants (no pink or yellow, preferably solid or striped)size M
3. gift cards: XXI, urban outfitters, sephora

Geela Sarah:
1. Sony ACS-5220E AC Charger for Reader Digital Book
2. Sony PRS-ACL1 Reader Digital Book Cover with Light
3. Harry Potter and the Half Blood Prince DVD
4. ALDO!!, Sephora, Walmart, Barnes and Noble or Visa/Amex/MC Giftcard
5. House - Season 5 DVD

potluck: alcohol.?

Justin:
1.Chukka Boot in peacoat blue, or black, or any color u think will look good. size 8 1/2 or 8
2. 12 month xboxlive card... there cheap on amazon
3. Francoo tan leather shoes from steve madden
4. gift cards to h&m, vans, urban
4. BODY FLEX 'CHAMP' STANDARD WEIGHT BENCH WITH LEG LIFT at big 5 hahaha
5. Harley Davidson iron 883 black if you have $7,999 to spare

Christhel:
1. giftcards: forever 21
2. toms(s5) any color
3. burton snowboard boots (s5.5)
4. sex and the city the entire series
5. canon digital camera

potluck: chips and dips plus beverage

jesse.
1.gift cards to h&m,active,valsurf,target,petco,walmart.
2.desktop aquarium (1.5g-2.5g)
3.vans (era) size 8.5
4.asian hyna.

potluck:thai tea

Katrina:
-giftcards: sephora, victorias secret, forever21, and nordstrom
-Wii games: new mario bros game & beatles rockband
-cute, purple blackberry bold case

Dru:
-doug season 1&2 on dvd

Christine (ej's girlfriend):
-DICEY rain boots by Dirty Laundry from macy's (color black at macy's)
-new super mario brothers for Wii (the one with multiple players at the sametime)
-warm and fuzzy house slippers with rubber on the bottom
-Keeping up with the kardashians on dvd and girls next door on dvd with holly kendra and bridgett. oh and in living color on dvd
-cosmetic train case, at least 15 inches.

Bran'D:
- Minnetonka Women's Kilty Suede Moccasin (Size: 5.5 Color: Brown; can be found at Nordstrom, Finislhline or these various sites:
http://www.endless.com/Minnetonka-Womens-Kilty-Suede-Moccasin/dp/B0026MRNGO or
http://www.nyciwear.com/product/MT-402-BRN/Minnetonka_Kilty_Suede_Softsole_Moccasins_in_Brown_MT402.html?meta=dealtime&metacpg=MT-402-BRN&utm_source=SHOPCOM&utm_medium=CPC&utm_content=&utm_campaign=MT-402-BRN)
- Sephora Gift Card
- Victoria's Secret Pink®UCLA fleece pant (Size: XS Color: Yellow) http://www2.victoriassecret.com/commerce/onlineProductDisplay.vs?namespace=productDisplay&origin=onlineProductDisplay.jsp&event=display&prnbr=EG-255113&page=1&cgname=OSPNKCLIUCL&rfnbr=5098

Joch:
1. long scarves, gloves, cute ear muffs
2. amex gift card, forever 21, urban.

potluck: wine

Nikki said...
1. American Apparel spandex Jersey Double U-Neck Dress (short sleeve not the long sleeve) in BLACK sz MEDIUM
2. GIFT CARDS to Urban, American Apparel, or Sephora
3. TOMS shoes (gold sz 5.5) last resort haha

Lawrence:
1. Gas card,
2. Visa gift card,
3. Shoes 8.5,
4. Clothes,
5. Cell phone...
Shirt-medium, sweater-small, pants-29x30, hat-7 1/4

Randy:
1.Vans black and white skate highs sz. 9 1/2
2.Gift card to best buy or target.
3.Hoodie sz.Large
Posted by

blah
at 9:27 PM
32 comments:

Saturday, November 14, 2009
The biggest pay per view event history was made on saturday November 14,2009. Manny Pacquiao had defeated the heavy hitting Miguel Cotto from Puerto Rico. The Puerto Rican fighter showed a lot of fire power during the first round. While on the other hand, Manny was blocking and being patient. As the second round intervene, Manny Pacquiao showed tons of offense. By the end of the second round, Manny had knocked down the WBO champion, Miguel Cotto. The fight lasted twelve rounds but, the referee stopped the fight.
Now, who's next? A rematch? The winner of Mosley-Berto fight? Or perhaps the flashy Floyd Mayweather Jr. It will not be easy to make the dream fight, Pacquiao Vs. Mayweather. The pound for pound match will be one of the richest fights off all time. It's not cheap to make that fight with ego's colliding. The Benjamins will have much to say in this fight.
But for now, Manny Pacquiao will rest and will sing karaoke to his fans. Oh wait, he already did that after the fight in an open concert at Mandalay Bay to his fans. Or maybe he will make a sequel to his new movie, which is flying soon to theaters or dvd, called "Wapak Man".
Pacquiao couldn't beat Miguel Cotto's heavy charged punched was just a myth..!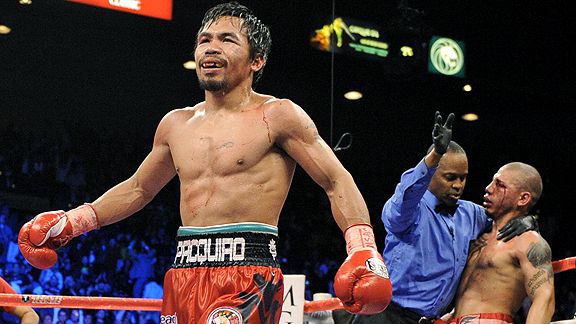 Posted by

blah
at 10:27 PM
No comments: